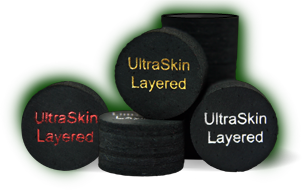 LayeredCueTips.Com would like to thank the over 1,000 Cue Repair people and Cue Manufactures for installing over 100,000 Ultraskin Layered Cue Tips in the past year.
UltraSkin would also like to thank all the Pool Players that have requested their tips be changed over to the UltraSkin Layered Cue Tips.
Their has been some new excitement added to the UltraSkin Layered Cue Tip line. Due to demand two more additions have been added to the normal line up of Soft, Medium and Hard. Players now have two more choices, The HH known as the Heavy Hitter and the VS known as the Very Soft.
As a Player myself I have almost always had two shafts per butt (in the 1960's it was almost unheard of to have an extra shaft. My Second shaft would mostly go not used during the time I owned it. I however have found due to the way different tables play and the many different games played today the need to have two different hardness tips on my shafts of the UltraSkin Layered Cue Tip line. This allows me often to obtain the same reaction on the cloth and rails without a change in the acceleration of my stroke.
I hope you as a player will now ask your professional Cue Repair Person which UltraSkin Layered Cue Tip will be the best to enhance your game or try one of your friends cue's that has an UltraSkin Layered Cue Tip already installed so you can get some correct feed back on which is right for you. As a player you must understand your friends cue will not play exactly like yours so take the time to compensate for the cues hit compared to yours while paying more attention to the feel of the Cue Tip.
Thank you for your support and may the UltraSkin Layered Cue Tip be your "Love At First Stroke"
White Printed PRO Tip = our softest offered
Green Printed Layered Cue Tip VS = VERY SOFT
Gold Printed Layered Cue Tip = SOFT
Silver Printed Layered Cue Tip = MEDIUM
Red Printed Layered Cue Tip = HARD
Purple Printed Layered Cue Tip HH = HEAVY HITTER
Order Now
Shipping to lower 48 States only $2.07
Mix and Match
1-10 - $9.95
10 and above - $5.25