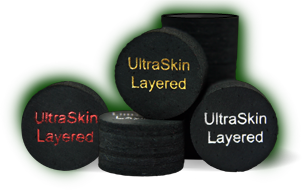 The Biggest Change in UltraSkin Layered Cue Tips For The Year.
The biggest change for the UltraSkin Layered Cue Tip this year is the same as day one. NO CHANGES.
UltraSkin is pleased with its repeat business from over 1,0000 Cue Makers and Cue Repair People we have found no reason for a "New And Improved"
Stick with what your customers and their customers have seemed to enjoy over the past years.
Layered Cue Tips have become like a passion to me.
With 6 varieties of densities we feel for the majority of players and the variety of games and cloths on tables we hopefully have you covered.
Custom cues usually come with two shafts. On a personal note, I use the UltraSkin Layered Pro cue tip for One Pocket and the UltraSkin Medium Layered Cue Tip for Nine Ball. Depending on cloth and rails I may switch the shafts to fit.
I will never sell all the Layered Cue Tips to the whole pool playing world so I don't try. If you and/or your customers enjoy the UltraSkin Layered Tip please buy them, your business is very much appreciated.
If you go another way, please, just enjoy the Game/Sport and keep stroking.
White Printed PRO Tip = our softest offered
Green Printed Layered Cue Tip VS = VERY SOFT
Gold Printed Layered Cue Tip = SOFT
Silver Printed Layered Cue Tip = MEDIUM
Red Printed Layered Cue Tip = HARD
Purple Printed Layered Cue Tip HH = HEAVY HITTER
Order Now
Shipping to lower 48 States only $2.07
Mix and Match
1-10 - $9.95
10 and above - $5.25